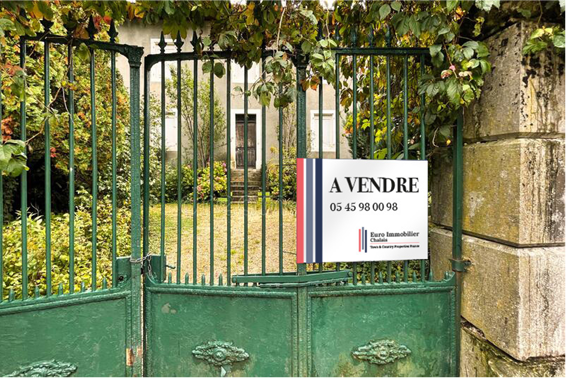 Sell your house in France
Town & Country Property France (Euro Immobilier Chalais SARL) is a French registered estate agency, and we have been helping people buy and sell their houses in France since 1994.
Our experienced and friendly team of English speaking sales agents have lived in France for many years and have extensive local knowledge. 
Free International Marketing
We offer extensive worldwide internet marketing via multiple property portals such as :
Selling Costs
All of our fees are included in the advertised price of the property, and we make no extra charge for any service.
Agency & Notaires fees
Our fee is included in the price advertised. The notaire's fees are extra and paid by the buyer
The costs to you, the vendor, would include :
Diagnostic Reports
Depending on the property's age, type and location, these may include:
Energy efficiency report (DPE) – Termites – Lead – Asbestos – Gas – Electricity – Habitable surface (Loi Carrez) – Swimming pool security – Natural and technological risk and soil report – water police report for a lake
1) The energy efficiency report (DPE) prepared by an independent company (required before we can advertise, and displayed in the advert)
2) The other obligatory reports prepared by an independent company once an offer has been agreed (but if you can agree to have them all done at this stage it's better, it helps avoid any surprises and renegotiation later).
Most of the reports are for the buyer's information only.
Sewage (Assainissement)
3) A valid fosse inspection report must be less than 3 years old at the time of completion. In some cases a mains drains (tout à l'égout) connection report may be required.
Capital Gains Tax
Depending on your situation, you may be liable for capital gains tax on any profit you make on the sale. The notaire will inform you if this is the case.
Furthermore, a specialist company may need to be appointed to guarantee the validity of your capital gains tax declaration if you live outside the European Union even if there is no capital gain. The notaire will inform you if this is the case, and advise you of the specialist company's (fiscal representative) fee.
Other costs
Before completion you'll be required to have the septic tank emptied, the chimneys swept and the boiler serviced (if they exist).
For the items listed 1 2 & 3, and with your permission,  we can arrange these for you and allow access to the inspectors/artisans if you are absent.
Once we've found a buyer for your property we'll liaise with the notaire on your behalf and explain all the clauses in the sales contract so you understand what you're being asked to sign. We'll also send you a bespoke booklet of guidance notes to refer to throughout the process.
We look forward to helping you.